Why our clients choose Ecopack every day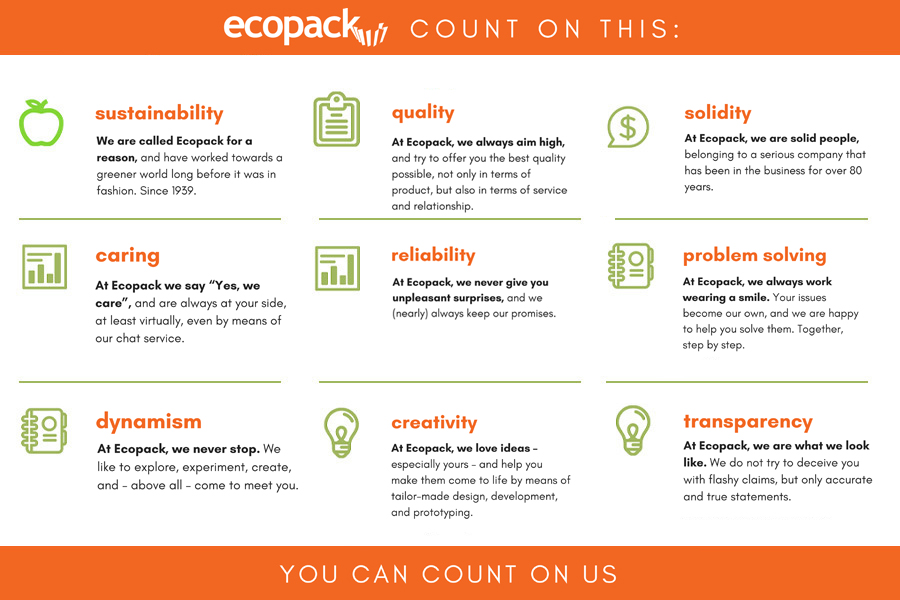 There is more than one reason why many companies choose us for their product packaging!
Ecopack means eco-friendly and high-quality packaging: our incredibly loyal customers, which have relied on us for years to dress their products, know this well.
But what are the reasons to choose us?
Here are a few.
Quality
At Ecopack, our goal is to always give our clients the best.
When we talk about quality, we do not only mean the extremely important standards that we comply with to always provide top-notch products, but we also refer to the quality of customer service and relations: a quintessential element for an optimum buying experience.
Reliability
There cannot be quality without reliability: whoever comes to us knows to have acquired a trusted partner, which will never give you unpleasant surprises.
Our priority is to keep our promises.
Caring
This is why we always tell our clients "yes, we care", and are always at your side, even virtually, by means of our chat service.
Stability
A company that has been in the business for over 80 years and has proven, over time, to be stable and serious, can be nothing but worthy of your trust.
We are solid people: a real partner to which you may entrust your corporate packaging.
Transparency
We are what we look like, since 1939: we do not care to attract you with magic tricks and illusions, simply because we know that truth and correct information are always the winning hand, even in customer relations.
You may always place confidence in what we tell you.
Problem solving
We always take your matters to heart, as if they were our own. We put all our effort to solve any issue, one step at a time, and always wearing a smile.
Dynamism
We believe dynamism is the basis of problem solving. We are willing to meet you halfway with all our resources: discovery, creation, experimentation, and – when possible – face-to-face discussion.
Sustainability
One of our company's cornerstones is the attention to sustainability, and bringing to the table all our creativity to find top-quality packaging solutions with a low carbon footprint.
We work towards a greener environment since the very birth of Ecopack, thus long before it was in fashion!
Creativity
Moreover, we are able to find solutions designed specifically for you, and manufacture tailor-made prototypes to fit your demands.
Contact us to find out more.