Tartiflette in Paper Pan Molds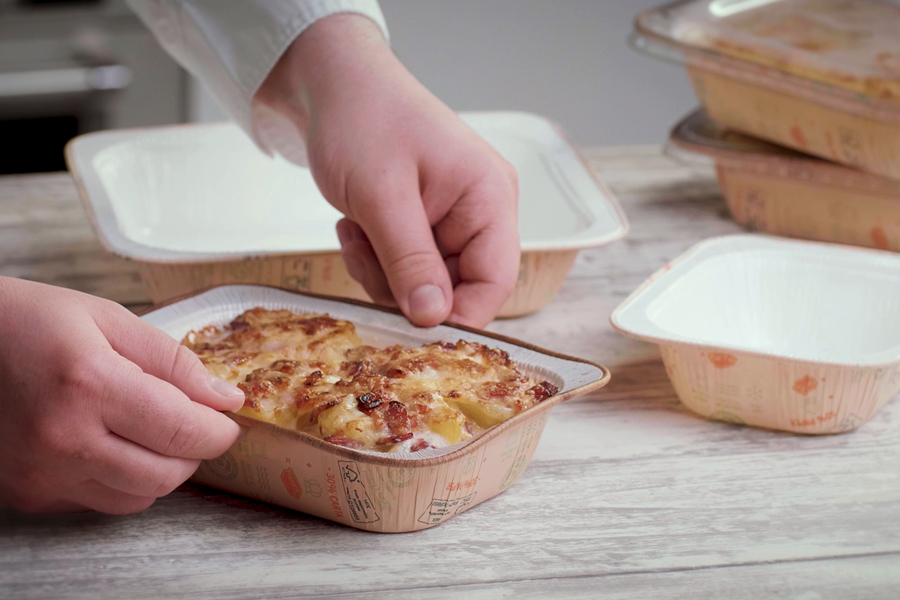 A tasty and popular recipe, prepared with the support of the Ecopack Paper Pan range.
Find out how to welcome the fall with the seasonal scents and tastes of this scrumptious dish!
It's easy to prepare: watch the video to find out the secret ingredient!
Paper Pan
Paper Pan is a complete Ecopack line including three practical and eco-friendly formats.
The Paper Pan tray is a perfect alternative to many other, more expensive, and less sustainable materials.
The Paper Pan tray guarantees extraordinary performance in the kitchen: it is fully resistant to liquids and grease, and is oven-, microwave-, and freezer-safe!
Thanks to its special rPET recyclable lid, the Paper Pan tray is also perfect for take-away and delivery.
Tartiflette recipe
Olive oil (to taste)
1 Onion
30 ml (1.1 fl. oz) White wine
140 g (4.9 oz) Bacon
Salt (to taste)
Black pepper (to taste)
200 ml (7 fl. oz) Panna
300 g (10.6 g) Reblochon
800 g (28.2 g) Boiled potatoes
… and of course the Paper Pan tray, the right ingredient to make your Tartiflette even better for the environment!
Explore the Paper Pan line for all your recipes!
Watch the video and find out how to prepare an impeccable Tartiflette in only a few minutes!